choosing the right tent doesn't
have to be hard!
Which tent should you pick for your event? What rentals are right for your party? The answers depend on your setting, style and budget. We can help you with your decision by offering you an array of options.
Sail Cloth
The sailcloth tent is a type of pole tent that uses sailcloth material rather than vinyl, and wooden poles to support it. The fabric adds beautiful ambiance to the interior space of the tent, and the soaring ceiling and curved lines make it a beautiful choice for that special day.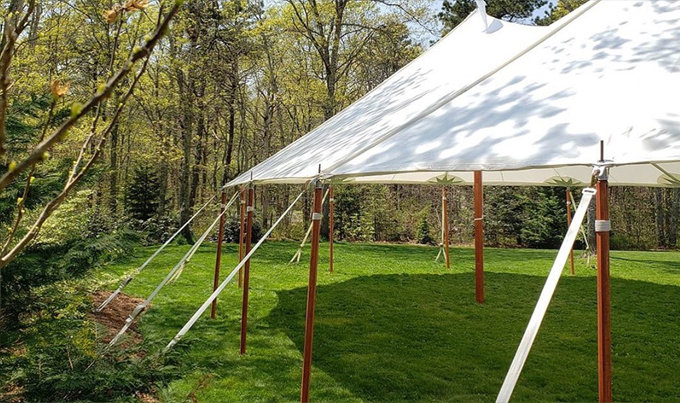 Rope Tent
Our Rope Tent is supported by at least one pole (more poles for larger tents) in the center and tension provided by ropes that are staked around the perimeter. Those ropes and stakes require several feet of open, unpaved space all the way around the tent. And the center poles can affect your interior set up\to a certain extent.
Frame Tent
Frame tents are the most popular kind of rental tent we handle. Free-standing and not supported by poles and stakes, but by aluminum frames, which means you do not need to have space around the tent to accommodate ropes and stakes. The space inside the canopy of a frame tent is entirely open, so you can arrange the floor plan freely.